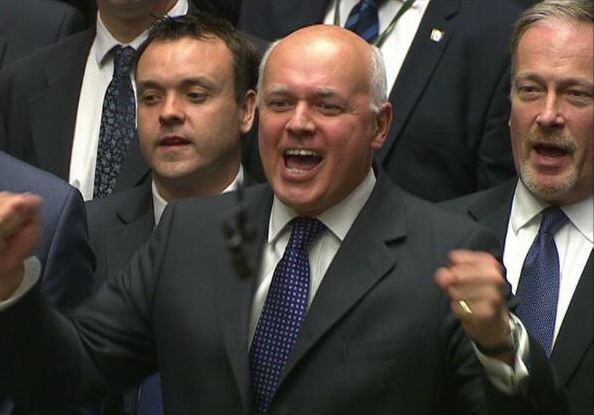 Monday 6th July
Well, the Greeks only went and voted "No" on the referendum, a result that we were assured would only lead to their untimely ruin. Perhaps it will be so, but today we see the media trying to justify the build-up they gave to Armageddon, when it turns out to be just another day. So, it's wall-to-wall coverage of journalists attempting to get us excited/terrified by the fact of not much happening.
Meanwhile, the BBC is going through the awkward process of examining itself after the Corporation agreed with the Government that they will take over responsibility for free TV licences for the over-75s.
In the privately negotiated deal, the Government gets a significant cut in the welfare budget without having to incur any backlash, whilst the BBC get a delightful £500mn blackhole in its finances, and all the blame should they have to vary the policy at a later stage.
Every BBC Director available is on hand to tell us that this is a "good deal for the Beeb", clearly having taken advice from the PR form that advise Wonga.com.
Tuesday 7th July
With so much terrible and unpredictable news of late, it is comforting to have something which is important, but reliably dull and uneventful.
And so to the Labour Leadership Contest. Today, there was a controversy. If by controversy we mean a storm in a tea cup. Labour MP Helen Goodman has backed Yvette Cooper with an apparent backhanded swipe at Liz Kendall.
In a blog for the Huffington Post, Goodman wrote: "Much more important to me than being an MP and shadow minister is that I am a mum… That's why I'm backing Yvette Cooper to be the next Leader of the Labour Party. As a working mum, she understands the pressures on modern family life."
Kendall supporters have expressed dismay that anyone should attempt to use the fact that their candidate is childless against her, even if it was implicit.
It is rather astonishing that anyone should write and declare that the clinching argument for a female candidate who has been an MP for 18 years, a Minister in the Government and in the Cabinet for 11 years, and a Shadow Cabinet Minister for 5, is that she is a mother.
Now that's progressive, left-wing politics.
Wednesday 8th July
Budget day, and it's the usual mixture of a little bit of good news, and an awful lot of grizzly news. Chancellor George Osborne has made a habit of pulling a "rabbit" out in his budgets, and this time he needed to. Amidst the abolition of housing benefit and university maintenance grants for young adults, and other policies which penalise young people who bear exactly zero responsibility for the deficit, this year's bunny was the introduction of the Living Wage, a policy which he has taken from his great political idol, Ed Miliband.
So delighted by the announcement was Iain Duncan Smith that the Quiet Man roared and cheered and gyrated in the Commons as if he were David Cameron on the terraces of Upton Park, or Villa Park, or whichever football stadium the PM most recently passed on a helicopter.
Moments later, Duncan Smith thought: "I hope the left-wing press won't use my celebration of this measure to imply that I'm happy about all the others which cut welfare."
He checks Twitter, before muttering "Oh crap".
Thursday 9th July
A tube strike in London always sorts the wheat from the chaff when it comes to social media socialists. There are those who stand by their principles; those who are marching now towards Embankment, Monument and Edgware Road singing the Internationale.
However, there is a significant number of Facebookers and Tweeters who vacuously chant every Labour slogan and demonise those uncaring tossers who think differently from them, who all suddenly go a bit Mrs T when their comrades decide to use industrial action and inconvenience them.
Well, it's nice to know that the Labour party represents the very soft wing of their party, with the figure of Khalid Mahmood, who liked the following post on Facebook:
He claims this was an accident, and I'm sure that we can all sympathise. Who amongst us hasn't, from time to time, publicly supported an unequivocal statement which is the absolute opposite of what we supposedly stand for? It's the Freudian slip of the digital age.
Friday 10th July
And so we come to Armageddon day. The Greek government has reached the absolute final deadline and has submitted one last proposal in an attempt to reach a deal with its creditors.
After the referendum delivered a stonking rejection of everything that was on the table, Syriza has spent the week hammering out their terms and have delivered… a very similar deal to the one they successfully campaigned against last week.
So, a 60% mandate is almost completely ignored, and the Greek people have lived through an extra week of turmoil and no money for absolutely no good reason.
It seems that democracy in its birthplace is worthless; and absolute democracy is so, absolutely.