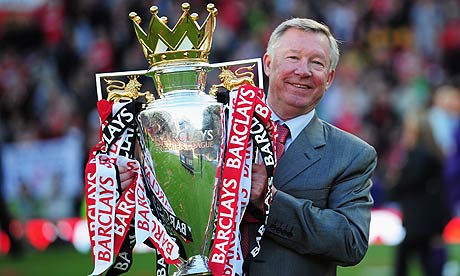 As a Manchester United fan, I look back on the numbing shock of the sudden end of Sir Alex Ferguson's 26 year reign.
Aside from the Queen, Sir Alex Ferguson has been the only constant during my life. I have lived through 12 England managers, nine Italian Prime Ministers, five British Prime Ministers, four US Presidents, four Archbishops of Canterbury, three Popes, but only one manager of Manchester United Football Club. On a more personal level, he's been at the helm of the club for almost as long as my elder brother has been alive, and that guy's old. He can remember when the Tories last won an election.
I and millions of other United supporters are going into uncharted territory.
We know that we are hated. No matter what any of us do, we will be despised. One of the most treasured compliments I have ever received was from a Liverpool supporting friend of mine who said: "You're the only United fan I like." The roots of this antagonism are many and varied, but one of them is undoubtedly Sir Alex Ferguson.
If we are frank, Sir Alex was what made us different from other clubs, not just because of his success, but because of his longevity and durability. Since his appointment in 1986, Real Madrid have had 24 managers, Inter Milan have had 19, Chelsea 18, Bayern Munich and Juventus 14 and AC Milan 13. The managerial merry-go-round was something that happened to other clubs.
A trophy-less season was no disaster: Sir Alex would set it right. Three seasons without a Premier League title (a difficulty that brings whole new meaning to the phrase "first world problems") was troubling, but we knew Sir Alex would set it right. Our biggest player was threatening to leave: Sir Alex would set it right. With perhaps the exception of the continental challenge of the supreme Barcelona side, there was no problem to which Sir Alex did not have the answer. In terms of longevity, Arsenal have their own version of Ferguson in Arsène Wenger, and despite having now been trophy-less for eight seasons, they still say "In Arsène We Trust". It wasn't trust with Sir Alex: it was blind but justified faith.
We have known that this day has been coming, and we all know that we'll never see anything like him again. There will not be another era of 13 league titles in 21 years, and when you have become accustomed to such incredible success, the comedown from the high is going to be difficult. In fact, Sir Alex's retirement is nothing short of terrifying, and everybody knows it. The news hadn't been known for a few minutes before friends started telling me that United are doomed to plummet, and the final twist in the Matt Busby comparisons came home to roost: not too long after that great man's retirement, we were relegated to the second tier. In this modern era, it strikes me as unlikely that a club of such resources as United could descend so low and so quickly again, but a new era is upon us. We have lost the object of our unquestioning faith, and there is no replacement.
But, we have always known this was going to come, and we always knew this age wouldn't last. We have been beyond blessed by a genius and now it is for us to know what it is to be like other clubs. That sounds arrogant and it probably is, but there can be no denying that Ferguson's United has been unlike any other era for any club in the history of English football. He and his reign have been genuinely exceptional, and he will be missed by many of his rivals too, as the competition was so greatly valued. Indeed, for many fans of football, when next season comes, it will be a very strange beast. What will English football be like without its Godfather?
At the end of it all, there's but one thing for this United fan to say: thank you Sir Alex.