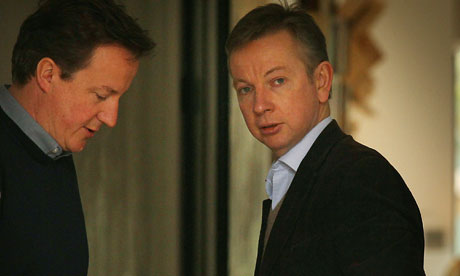 Monday 22nd June
David Cameron has been a majority Prime Minister for almost seven weeks now, and the time has come for him to start coming clean on the £12bn of welfare cuts. Whilst he has always been honest about the figure, he has been somewhat evasive on the detail. When I say "somewhat evasive", I actually mean "more evasive than Peter was when asked if he knew Jesus".
Today he has said that he is going to end the "benefits merry-go-round", which makes being on a low income and struggling to make ends meet sound more fun. He is referring to the taxing of low-earners, only to give them money back in tax credits, which is a bit of a u-turn from the man who introduced the Married Couple's Allowance. Because we absolutely should be supporting people who have a degree of happiness and support. We've all seen 70s sitcoms, and we know married people's lives are hell.
Tuesday 23rd June
Justice Secretary and apparent human Michael Gove has given his first speech in the role, and he has said that the justice system lets down the "poorest" in society. The Tories must be a bit miffed as to why this is, particularly as they cut the legal aid bill, meaning that it is now harder for the worse off to get legal representation. The problem really is baffling.
He's calling for investment in technology and IT to speed up trial procedures. Brilliant. That'll crack it. We're all for updating our infrastructure in all ways, but it's no silver bullet. All that will happen is that we will get to the crucial point of a trial and the court will have to restart so that Windows can install some updates.
Wednesday 24th June
A lot of news to pick from today. There is an extraordinary migrant crisis in Calais with apparently economic migrants attempting to pour into the backs of lorries which have been delayed by a strike. Meanwhile disabled people in wheelchairs, who were protesting the abolition of the Independent Living Fund, have taken police by surprise and very nearly stormed Prime Minister's Questions.
However, the most extraordinary story of the day is the revelation that the United States has been spying on French Presidents all the way back to Chirac. The US Ambassador was summoned, upon which he explained as follows.
"Look Jake, Nick, and Franky, we're sorry, but we couldn't turn it off. You guys were way more entertaining than Days of our Lives. Jakey had a different girl every night, then Nick did this whole star-crossed romance thing with the hottie who was twice his height. We were going to stop with Franky, but then bam: he's having an affair with an actress! I mean, can you blame us? You guys should write the script for Entourage 2."
Thursday 25th June
Extraordinary revelations in this morning's Guardian on the inner workings of the Lib Dems across five years of opposition, coalition, and, finally, oblivion. It transpires that there was a failed coup against Nick Clegg a year away from the General Election whilst, at the same time, in the face of dreadful local and European election results, Clegg was on the verge of quitting.
He told one Lib Dem that he felt that he was the "problem and not the solution", to which the senior Lib Dem responded "You don't have that luxury – this is your burden now, you have to carry it through to the election. Whether you believe that or not, it's tough titty."
Which roughly translated comes out as "I don't care how many seats we lose – I want to watch you suffer, you feckless Cameron-poodle. I hope that by the end of this you envy Chris Huhne. I don't care how you feel. That's hard breast."
Friday 26th June
Clearly Sepp Blatter has been taking some advice from Nigel Farage, because today he has unresigned. In Swiss newspaper Blick, he is quoted as saying "I did not resign, I put myself and my office in the hands of the Fifa congress."
It is true that he didn't say the word "resign", but he did say that the election he triggered would be for his successor. The signs are that Mr Blatter is going to anoint the only man who can continue his unique legacy of corruption and greed, namely himself.
Events depicted may differ from actual events. In fact, this is a work of fiction, with some facts. But mostly, it's nonsense.