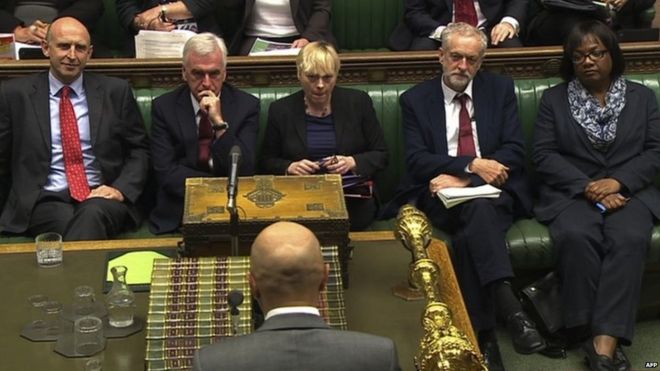 Monday 14th September
48 hours after his astonishingly vast victory in the Labour Leadership, Jeremy Corbyn is fast discovering that you campaign in corduroy, but lead in a suit. There isn't a donkey-jacket in sight.
Whilst 60% of Labour's electorate backed the Jezziah, 90% of his MPs wanted anyone but, and he is delicately trying to balance his Shadow Cabinet between his supporters, like new Shadow Chancellor John McDonnell, and his opponents, like new Shadow Minister for Going Where the Wind Blows, Andy Burnham. In the course of this, he scored a minor own-goal.
Although Corbyn – who, as the government has told us is a threat to your family's security, and possibly your pets as well – has produced the first Shadow Cabinet with more women than men (16 to 15), he has failed to give any woman a position in the top three posts, to go along with the all-male leadership elected on Saturday.
When they realised they were copping a lot of flak for this, Team Jez hastily promoted the already-appointed Shadow Business Secretary Angela Eagle to the honorific position of Shadow First Secretary of State, whose principal (and indeed only) duty is to stand in for Corbyn when he's not doing PMQs. So, it's a bit like being Shadow Supply Teacher.
Corbyn – who, as we know, will personally come round and disable your burglar alarm – responded to the criticism by asking "What is a top job?"
The ones at the top, Jeremy. The ones whose purview largely define the rest of policy.
Tuesday 15th September
As another day dawns, one wonders whether, when Jeremy wakes up, the little voice who just wanted to be on the Foreign Affairs Select Committee whispers in his head "Do I have to do this again?"
The man is on a rollercoaster. Today he has to go to St Paul's for a service ("damn – got to wear a tie"), and then onto the TUC Conference in Brighton ("hurrah – my mate Len will be there"), and then back to London to prepare for PMQs ("bloody hell – I've got 40,000 questions from supporters to read"). Furthermore, he's got to do all of this whilst trying to not express a policy on the European Union whatsoever, because that seems like a key divisive issue in his new Cabinet.
Nevertheless, because he doesn't really talk to the press, the major event is his TUC speech. Members of the right wing press watch attentively, play the Corbyn Bingo Drinking Game. Editor of The Daily Mail, Paul Dacre, gets "Hezbollah", "Hamas", "Regicide", "The Jews", and "I'm going to come round to your house and threaten your granny's security" on his card. Having got such a blockbuster selection of phrases, he cannot understand how he is still completely sober when the speech comes to an end.
Wednesday 16th September
Perhaps this morning, Jeremy Corbyn just awoke to a feeling of sheer disbelief. The papers are awash with the unbelievable and wantonly provocative incident where a lifelong republican didn't sing "God Save the Queen".
His refusal at yesterday's service marking the 75th anniversary of The Battle of Britain to sing the national anthem, but rather to stand in respectful silence, has caused a storm, though many seem to not really care, pointing out the hypocrisy charge had he sung it.
Then it got worse. Kate Green (Shadow Minister for Women and Equalities), who said that she would have sung it and would have advised him to sing it, and was touring the news studios endlessly to say so.
At last, Jez responded, but seemed to say little. He didn't explain why he hadn't sung, and didn't clarify whether or not he would at future such events. Not for the first time this week, the Labour press team had to issue a statement explaining what he meant. He will now sing the national anthem, and thus the teacup was eventually cleared of storms.
So, at last, we reached his first PMQs, where he brought the new politics to the despatch box. Not only was he refusing to engage in histrionics, but all of his questions were inspired by members of the public; Marie, Steven, Paul, Claire, Gail, and Angela to be precise. See: even his question selections have female majorities.
Some thought it was gimmicky, others refreshing. Ed Miliband thought it was astonishing that when Jeremy mentioned real people, it seemed rather genuine, and didn't sound like he was a maniac pursuing "ordinary" people around parks to see if they had a soundbite he could borrow.
David Cameron embraced the calmer tone for what it was: that is, a platform for him to explain how great the government's work is without any heckling from the other side. To that end he mentioned the words "economy" and "security" like a parrot that's owned by a salesman of cheap padlocks.
Shortly after the circus was over, events far away finally began to overtake this bizarre week in British politics, as migrants attempted to rush the Hungarian border gate, meeting an aggressive and resolute police response. Next week, Mr Corbyn will have to find some very well informed members of the public to formulate questions on this.
Part Two available to read here.