In the northern constituency of Sedgefield, a star from a bygone era is making his return to the stage.
1
"Tony, are you sure this is a good idea?"
"Yes," replied Mr Blair in his dressing room, as he peered at his reflection in the illuminated mirror.
"Because, we were sort of hoping to make today about the NHS."
"Uh-huh," replied Tony, as he applied his foundation. "And are you worried that they're going to talk about the EU instead?"
"We think everyone's going to be talking about you."
"Really? Do you think?", said the former-PM as innocently as he could.
"Yes. It may get us off message."
"But, if everyone's talking about me, that's no bad thing. They like me. I won three elections after all."
"Look, we appreciate it Tony. You were Prime Minister. You were big."
"I am big. It's the politics that got small."
"Err… well, anyway, Ed would rather you kept it brief."
"I was going to do that anyway. I have a speaking engagement tonight. Now, here's the big question: mascara, eye-liner or both."
It's good news, bad news for Natalie Bennett.
Good news: she got an interview on BBC Radio 4's The Today Programme.
Bad news: John Humphrys signed it off by saying thank you to "Caroline Lucas".
NHS? Blair? Neither of these seem to be engaging with voters as much as the humble hot dog.
During one of his many simple, family barbeques with employees from Getty Images, David Cameron was seen eating a hot dog with a knife and fork.
Which is the sort of thing that you might initially gloss over, but, when you dwell on it, it just proceeds to baffle more and more. Does he not trust himself to use his hands? And talk about not tough enough to face Vladimir Putin? He isn't tough enough to handle a foot-long wiener.
In the interests of balance, though, here is a photograph of Ed Balls eating a hot dog in the usual fashion.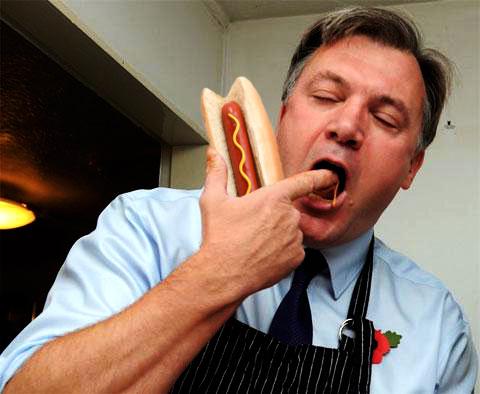 Nothing crystallises the choice at this election more than these two photographs. What rich pickings we have.
Minutes to go until his speech, and Blair is talking to a young Labour supporter backstage about his heyday and his plans.
"Is this a comeback?" asks the fresh-faced Blair-fan.
"I hate that word. It's a return, a return to the millions of people who have never forgiven me for deserting their television news screens."
The young Blairite has never been so enthralled, and he watches Tony agog.
"We didn't need policies. We had faces. Well, I did. But they took the idols and smashed them: the Blunketts, the Mandelsons, the Milibands! Sorry – the David Milibands! And who've we got now? Some nobodies!"
The teenager looks at him, the sadness of the man.
"Do you want to be back, as a power in the Labour party?"
Blair stared at him, with some fire in his soul. "Without me, there wouldn't be any Labour party."
David Cameron is in Northern Ireland at the moment. Today he is touring all four nations in the UK, and is currently visiting the set of Game of Thrones.
Insert your own joke here.
Backstage, Tony looks out from the wings with a steely glare. The familiar glint lingers still, somewhere behind his determined expression.
Just before he walks out, he mutters "Let's show them how it's done", and then it's like an old entertainer, returning to the stage and showing everyone he's still got it. Imagine Bruce Forsyth, if he'd committed any atrocities (apart from his hosting of the later series of Strictly Come Dancing).
He gets a standing ovation and he begins:
"I can't go on with the speech. I'm too happy. Mr. Crick, do you mind if I say a few words? Thank you. I just want to tell you all how happy I am to be back at the podium doing politics again. You don't know how much I've missed all of you. And I promise you I'll never desert you again because after this election we'll have another election! And another election! You see, this is my life. It always will be. There's nothing else, just us and the cameras and those wonderful people out there in the dark. Alright Mr. Crick, I'm ready for my close up."
At Labour HQ, there is an immediate post-mortem of the speech.
"I see. I'm not sure how I feel about that."
"I never liked him, you know."
Mr Cameron takes a minute during one of his flights to ask a Tory advisor about the day's events.
"How was Blair?", asks David.
"I see. I'm not sure how I feel about that."
"I always liked him, you know."
"Quite. I wish I was that."
On his way to his speaking engagement, Tony listens with glee to the radio. His speech is well-received, and regardless of his past and the controversy that surrounds him, he is praised for raising the tone of the campaign.
The BBC's Norman Smith says "So far we've really focused on a barrage of statistics thrown back and forth by the two main parties. Tony Blair is almost trying to raise the sights a bit and focus on a really big issue - the UK's position in Europe."
Tony smiles quietly to himself. "No-one ever leaves a star," he whispers. "That's what makes one a star."
1
Events depicted may differ from actual events. In fact, this is a work of fiction, with some facts. But mostly, it's nonsense.