The morning after the earthquake before. As the aftermath of the extraordinary election sinks in across the political spectrum, the Prime Minister reshuffles his ministerial team. Politicos love a Reshuffle: it's like a post-election night cap.
He tweets on the position of Boris Johnson:
Boris Johnson will be attending my Political Cabinet. As promised, he will devote his attention to his final year as Mayor of London.

— David Cameron (@David_Cameron) May 11, 2015
So, he attends the Political Cabinet, but Mr Cameron leaves speculation open as to whether he shall attend the Drinks Cabinet.
Grant Shapps has been demoted from Conservative Party Chairman to Minister of State for International Development. Which is odd because his Wikipedia page declares him to be KING OF ALL HERTFORDSHIRE!
Ed Miliband, meanwhile, is on holiday in Ibiza, where he will no doubt resume his hinterland career as a major clubber and DJ. No word on Nick Clegg, who presumably is still taking a decision on whether to laugh or cry.
Elsewhwere, UKIP's National Executive has rejected Nigel Farage's resignation. Yes – on the third day, he did indeed rise again, and it is the Return of the Gurn. On Victoria Derbyshire this morning,

Farage said that he was "enjoying life much more" having resigned. He must be devastated by this turn of events.
David Miliband has given an interview to the BBC which criticised his brother's election approach. Some may think that this is ripe for the old Miliband of Brothers jokes, but I don't wish to take this diary back to 2010. We need to build on the old jokes and move forward.

Tuesday 12th May
The Downing Street Press Corps have a problem. They cannot see a new person coming down the street without shouting a question at them. As the government reshuffle continues, they'll be in the middle of a live broadcast, when they'll suddenly turn and shout "Do you know what you've got?"
Do they do this all the time? Do they suddenly interrupt al fresco lunches by turning to a passer-by and shouting "Where did you get those shoes?"
The Labour leadership contest is gathering pace. With Liz Kendall having declared over the weekend, Chuka Umunna has announced his candidacy today via a guerrilla-style video on Facebook. Chuka comes from Streatham (yay!), but worked as a solicitor in the City of London (boo!), and thereby can expect a visit from the Un-lefty Activities Committee.

Wednesday 13th May
The Ed-Stone has apparently been discovered by The Guardian's Patrick Wintour:
For those in search of the

#EdStone

I have the first clue. It is in a garage in South London under lock adnd key. More follows.

— Patrick Wintour (@patrickwintour) May 13, 2015
Journalists have rushed there, but a Mr H. Jones, popularly known as Indy, has struck a note of caution, suggesting that "they're digging in the wrong place".
The Tories have decided to unveil their controversial plans to tackle extremism. It's all rather foggy, but Theresa May says the bill will target "those who are out there actively trying to promote this hatred and intolerance which can lead to division in our society and undermines our British values."
On that description, this bill is potentially fatal for the 1922 Committee of Conservative Backbenchers.

Thursday 14th May
Since Nigel Farage's unresignation he has got into a terrible row with his only MP over the £650,000 of short money he's entitled to. This featured Douglas Carswell achieving the logical end of his political career by rebelling against himself.
In an attempt to pour oil on the waters, Mr Carswell has announced that he will not be resigning his own whip and becoming an independent, declaring that he is "passionately UKIP".
Carswell says rumours he'll quit are absolutely not true

— Laura Kuenssberg (@bbclaurak) May 14, 2015
So, given UKIP's recent history, we can expect him to be gone within three days. Which is a shame because, controversial though he is, he seems to be the only UKIPer who isn't a total cult.

Friday 15th May
A shock today as Chuka Umunna dropped out of the Labour leadership race, citing discomfort at the scrutiny such a step takes. Which is a bit like Usain Bolt quitting 2 yards into a 100 metre dash, saying "I didn't realise it would be this fast".
Of course, the press had branded him as the "UK's Obama", having noticed several similarities between the two. Such as him being not white, and… being subject to nuanced media profiles. Now, the tabloids are devastated by the move. Sure, they get to use headlines like "Chuk-ed it", "Umunna-and-ahh-ing", and "Chuk Off" tomorrow. However, if he'd become leader, they could have done that for five years at least.
The Tories, meanwhile, are delighted with the news, as Mr Umunna was the one they feared. Now people are talking about a Labour leadership election re-occurring in 2018. Two years earlier than they expected: well, that's progress.
P.S.
Nick Clegg has been sighted, in a pub in Sheffield, doing to his liver what the country did to him: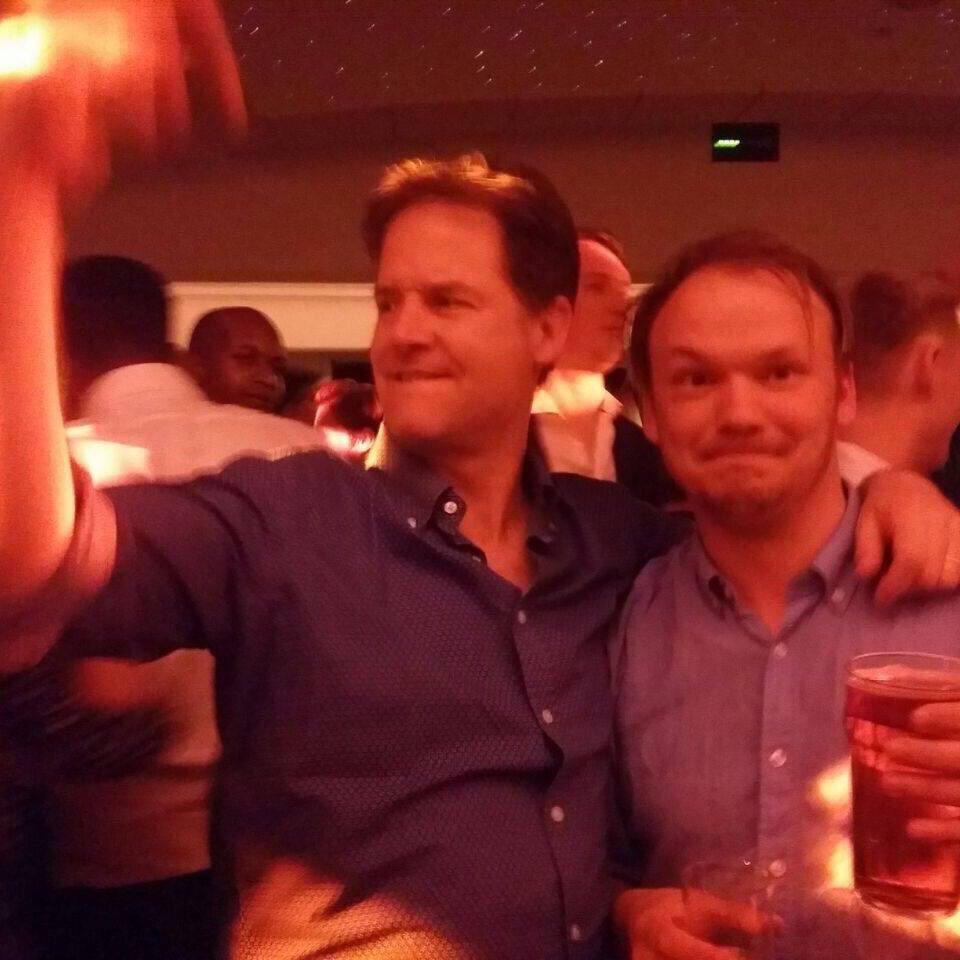 Events depicted may differ from actual events. In fact, this is a work of fiction, with some facts. But mostly, it's nonsense.